Once upon a time, there were two girls that wanted to run a race. Yeah, yeah, I know. Lotsa peeps do that...every day. There are about a bazillion blogs that tell me so.
Run On The Sun
- also known as T - and I decided we were going to do a sort of trial run this year to see if we could handle
The Goofy Challenge 2013
. For 2012, we did the WDW Half Marathon on Saturday and the WDW Full Marathon Relay on Sunday.
Now T and I are not the most dedicated of runners. We love racing, it's the training that gets sorta old.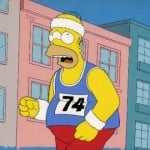 This is the male version of me.


Of course, our epic little journey began with checking into our pirate room! Arrr, matey!

Jealous?
The next morning, we braved the expo. Since we managed to get to the expo early, it wasn't packed, yet. I love the idea of expos, but once I'm there, I just sort of want to get the hell out!

Cool free picture from HP!


Two races = two shirts
It always bugs me that Run Disney doesn't offer men's and women's sized tech shirts. Don't get me wrong, I adore Disney races and plan to run many more, but c'mon. Disney races are really expensive. They should offer women's shirts. These always fit HORRIBLY.
We decided to take it easy since we had a race in the morning, but we managed to spend some time in at Hollywood Studios and take it easy.
Of course, we had to carb load the night before. I think french fries are completely appropriate as pre-race fuel.

Thanks for the pic warning. I look amazing, as usual.
We went to bed early because our alarm was going to go off at 3:30am. Yikes!
Stay tuned! I planned on writing more, but my computer is being difficult.